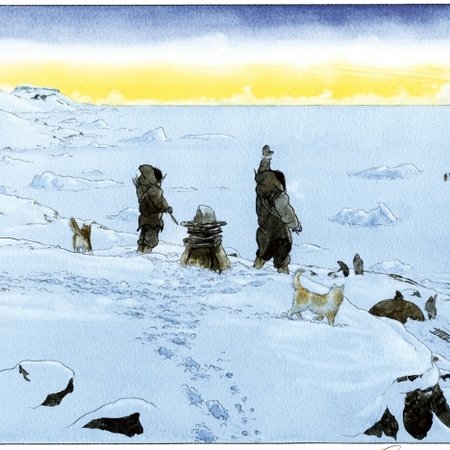 In a unique collaboration with archaeologists from the Danish National Museum in Copenhagen, Greenlandic cartoonist and artist Nuka Godtfredsen and author Lisbeth Valgreen have created a multi-layered graphic novel that conveys historical knowledge based on recent archaeological findings.
The striking images illustrate the arrival of the first inhabitants of Greenland, who immigrated from what is now Canada 4,500 years ago.  A fascinating story that takes visitors on a shaman's journey, on a hunt with a trapper or into the life of an Inuit girl.
Archaeological objects from the collection of the Weltkulturenmuseum Frankfurt illustrate a way of life that was strongly influenced by the environment and show the central importance of, for example, harpoon hunting, functional fur clothing and close coexistence with dogs for the inhabitants of the Arctic habitat.